How do you get Intel Quicksync in EDIUS?
To use Quicksync you need the right kind of motherboard and the right kind of Intel processor. These were first available around the start of June 2011 and we have been using them in our EDIUS systems since they were released. The Intel processor (which is a type of processor called a SANDYBRIDGE processor) actually has a graphic card build into the chip so you can actually have a system just running using this graphic card and with no nVidia or ATI card installed. It is the graphic card part of the Intel chip that also has specific sections programmed for H264 encoding.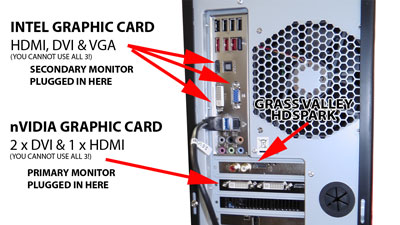 If you just use the Intel processor graphic EDIUS will work, but you will find some parts of EDIUS, the GPU transitions (fancy 3D transitions), ProDad Vitascene (a collection or movie looks, sparkle effects and masks) and the animated titling program, Vistitle, will need to render a lot of their effects, where as if you add another graphic card, normally a fairly decent nVidia card, they would play without rendering. So ideally you want both - the Intel graphic card so you can make Blu-ray quickly and the nVidia card for more realtime effects. You can do this as long as you set up the system correctly and run two screens - one using the nVidia card and one using the Intel card - which really just means make sure you plug the cables into the correct holes on the back of the computer.
Not all Sandybridge processors are equal...
Not all Sandybridge processors will let you do this, and not all Sandybridge motherboards work like this either - so obvious a good reason to get the computer from someone who know how to properly configure a system such as, dare we say, ourselves. Getting the right kind of components will not cost a lot more than getting the wrong kind of components and will save an awful lot of time when encoding Blu-ray or MP4 files.
EDIUS 6 uses this encoding when making MP4 files (the sort you would upload to YouTube or use for an I-phone), when encoding footage into files for authoring Blu-ray discs in programs like Adobe Encore, and in its own Burn to disc section when making Blu-ray discs. This means EDIUS is the faster program to encode footage for Blu-ray.
Add effects = longer waiting
The speed of encoding does vary - we have a series of different speed tests which you can examine to see how the speed changes and how EDIUS compares to other programs. Just click on this link: http://www.dvc.uk.com/acatalog/Edius_quicksync.html
Every editing program will take longer to encode timelines with effects or with no effects and the speed test results show this. Since some effects are sped up by the graphic card we also have results with and without the right kind of graphic card.