MAKING CHAPTERS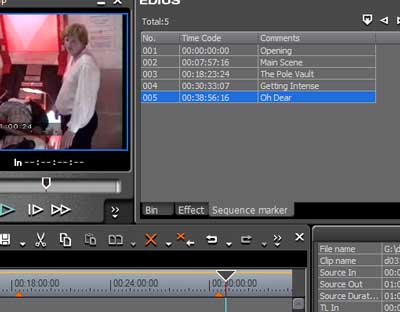 Edius can write both DVDs and Blu-ray discs directly from the timeline. The disc creation is fairly simple but could be enough for your needs. You can have an introductory piece of video, followed by a menu, or just go straight to the menu. The menus themselves can be fairly well customised but cannot have video in the background, only stills. Each timeline included in the disc can have a link on the main menu and its own chapter menu. You cannot make discs more complex than this without using a different program. However the advantage is that this is a very quick way to make a DVD or Blu-ray disc. For Blu-ray in particualr it can be very speedy if you also have a FireCoder Blu fitted. If so then making a DVD becomes a lot quicker.
Adding chapters
Just add markers to the timeline as you edit and type in a comment. These comments become your chapter names. Every marker added becomes a DVD/Blu-ray chapter. In the image here you can see the small orange triangles on the timeline and the list of them in the marker window with comments.
ADDING SEQUENCES
First select the items you want to include - you can include any timeline from the current project and also other clips on your hard drive. You can have many different timelines on one disc.
The encoding settings are automatically setup by EDIUS. You can customise these or leave them at the defaults. If you leave at defaults it will make sure your video will fit on your chosen disc.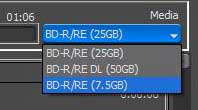 EDIUS can write single and dual layer DVDs, and three sizes of Blu-ray disc - single (25GB), dual (50GB) and a Blu-ray disc on a Dual layer DVD (8GB). The latter should be playable in a computer with a DVD writer and some decent Blu-ray playback software, like Power DVD. Obviously you can only playback Blu-ray discs in a Blu-ray player. All Blu-ray discs are encoded to H264 - there is no option for either MPEG2 or VC1. H264 would always be our preferred format for a Blu-ray disc anyway, and we only use MPEG2 because it is generally quicker to make than H264.
How long does it take to make a disc?
The encoding is pretty fast although it does depend on what is on your timeline (SD, HD, AVCHD and how many effects etc...) and how fast your computer is. On a 2.66Ghz i7 system (one of our better single processor machines) encoding an HD timeline to DVD was about 2x realtime (i.e. 1 hour was created in about 30 minutes). To create a Blu-ray disc from the same time line was about 1/3 realtime - i;e 1 hour would take about 3 hours.
You can improve on the speed of encoding by adding a FireCoder Blu board. This board will encode faster than realtime into H264 - so 1 hour would take about 45 minutes to encode. Since this performance is done by the chips on the board it will have the same effect on nearly all systems - remember the comparison above is done by comparing one of our fastest systems to the FireCoder Blu, and unless you have an i7 yourself you will find the encoding times without the board considerably longer.
DVD & Blu-ray settings
Grass Valley now support profile 4.1 for Blu-ray which means high bitrates for better quality H264 encoding. You can also make a Blu-ray or DVD with 5.1 surround sound.
Grass Valley EDIUS does not mix surround sound, so you cannot use it to take footage and fly it around the room, but if you can create your surround sound mix in another program (Adobe Audition or Sony Sound Forge being the most obvious) or you filmed originally in surround sound, then you can get that onto the DVD or Blu-ray disc. You just need to know how to set it up correctly (another topic to be covered in our forth coming EDIUS 6 tutorial).
Also notice the two new tick boxes:
"prohibit operations during playback" - This will force people to watch a particular piece of video, like a copyright notice as it disables all the controls on the DVD remote.
"display timecode" - write the timecode (This could be the timeline timecode, the source timecode or the source date and time information) onto the video as the DVD is made.
These two options are available per timeline used on the DVD. It is not a DVD-wide setting.
THE STYLE MENU
Once you have selected the items you wish to include move to the next tab where you can select the style of menu. You choose from one of the pre-made styles along the bottom and then customise the menu.
CUSTOMISING THE MENU
Note here you can change the number of buttons on screen, whether you have separate buttons for the chapter menu, the aspect ratio and whether the disc is a Blu-ray or DVD.
TEMPLATES
The list of templates is quite large and can all be customised. You can create your own templates however the procedure for doing so is not straight forward and involves creating each element as a separate picture and then defining the menu in an INI file.
EDITING THE MENU
Then move on to customise the menu. You can change the background image, the image of the buttons, the thumbnail that represents the image, the text and so on until you have a menu that you like. If you have 4 buttons per menu and your timeline has 12 chapters, then Edius will create 3 pages of buttons with next and back buttons between them, and you can customise each one. You can choose any image on your hard drive for the buttons and background images.
You cannot have video in the background of a menu. Another omission from the disc writing is that at this point you cannot customise the highlights on your menu (the parts that light up as you navigate around the menu). You will not see these highlights until you have made your final disc.
Moving menus
EDIUS can make simple DVDs off the timeline but has always been a bit limited. Now to be hoinest yuou are never going to get an authoring program with the complexity of Adobe Encore or Sony DVD Architect built-in to an editing program but many people do not need those extra features. With EDIUS 6 Grass Valley have added in all the features that most people will want for their videos.
The first is motion menus. EDIUS 5 menus were all still images. EDIUS 6 lets you setup an EDIUS sequence and use that as the background for your menu. This could be a simple still image with a piece of music, or a complex composite using any of the tools inside EDIUS.
EDIUS creates its menus from templates. There are new templates which can have up to 16 buttons on one menu. The templates can be thoroughly customised so they can be almost anything you want (including of course having a moving background). If you have 3 or 4 menus it was a pain customising one and then doing the same with all the others. Now with EDIUS you can customise one and then copy and paste that customisation on to other menus.
DVD highlights
With EDIUS 6 you can decide if you highlight the whole button, the edge or underline it. Import an image with an alpha channel as a button and the highlight will match the alpha channel. You cannot change the colour of the hightlight which is set in the menu template. You will not actually see what the template highlight colour is until the disc is made. Once you have made a few discs with EDIUS you begin to learn which templates are your favourites and the colours of the highlights.
DISC WRITER OPTIONS
On the final tab you chose from the options shown here and then click burn. You can save the DVD/Blu-ray files for burning again later or you can write directly from the editor.
You don't have to make a disc with menus - you can just create a disc which either plays once and then stops or plays in a loop.
The options for a Blu-ray disc are exactly the same as for a DVD. The disc writing in EDIUS Neo 2 are exactly the same as those in the full version of EDIUS (i.e. DVD & Blu-ray with support for the FireCoder Blu.)
What does EDIUS disc writing not do?
EDIUS disc writing is very useful but there are some things we would like added to it as soon as possible.
No preview - you cannot preview the DVD/Blu-ray before burning, so you do not know what your highlights will look like and cannot check that all the links correctly work. You can write a folder and then play that from the hard drive with a program like Power DVD, but you cannot preview it before this.
EDIUS disc writing can only created a main menu and chapter menus for each title. Unlike a program like Encore where you can make a menu lead to another menu, which leads to video then a menu - in other words a disc where you can make it do what you like. This does not mean that you cannot make complex discs - we did actually layout the entire EDIUS tutorial which contains 4 different pieces of video and each of those has a submenu of text chapters - using EDIUS DVD writing and it worked perfectly. In the end though we encoded the video for the tutorial using Canopus ProCoder, as that produces the best quality video for DVD, and authored in Adobe Encore. For a disc of this complexity it was actually easier to you Encore and we could also benefit from better encoding using ProCoder.
What can you do in another program?
If you want more control or to make a more comprehensive DVD then we would recommend using either Adobe Encore or Sony DVD Architect for your DVDs and Blu-ray discs. What can these programs do for you?
More complicated discs - menus and timelines can be link to whatever you choose. When you land on a menu you can decide which button is highlit for example.
Author DVDs for duplication - both can write a glass master to tape for proper duplication. Of course with EDIUS DVD writing you can still get one of our DVD Duplicators and make the copies yourself.
Playlists - make a list of the clips you have and play them in a specific order. You can even make chapter play lists which pick specific chapters out of the titles to play in the order you desire.
Include DVD ROM content - in addition to the video maybe you want to add some JPG files for some PDFs - Encore and Architect let you specify a directory on the computer and include everything that is in that directory for viewing when the user puts the disc in a computer.
Totally customise menus - highlights, shapes etc. Encore is the easiest to customise because of the link with Adobe Photoshop. Just choose edit in Photoshop, make some changes and save the file and Encore is instantly updated. This just means you can make you menus look like anything you want. EDIUS and Movie Factory start with templates which you customise with your own images so you can do a lot, but it is nothing like the power you have with the Encore/Photoshop link.
Permissions - you can set up menus or timelines so remote control buttons do not work. Make them watch your copyright notice, for example.
Subtitles - you have up to 32 layers of subtitles per video.
Different audio tracks - 8 different audio tracks are allowed on a DVD
Different video tracks (Architect only) - You can add different video angles to a DVD, which the Sony program can do. Although you are allowed the same thing with a Blu-ray disc neither program can do this at present,
Scripting (Architect ONLY) - DVD Architect lets you do full scripting on DVD which means you can do things like let people choose their preferred language at the start of a DVD and from then on everything is in that language, and generally create more complex discs.
Ok that's a lot of things EDIUS does not do, so why use it for DVD writing?
Because its quick and simple. Edit your video, add a few markers, choose a template and you are finished. To use any of the other programs you need to export a video file from EDIUS, load it into a different program which needs to be learnt, add the chapters, customise the menus etc. If you don't need to make a complicated DVD then why make extra work for yourself?
Exporting to files
EDIUS has an excellent, comprehensive and streamlined set of export options.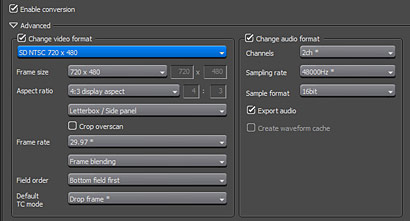 This includes a huge raft of presets for various formats such as AVCHD, XDCAM, MPEG etc plus the ability to customise these and create your own.
EDIUS also has batch encoding built-in so that you can make a list of different types of files you need to create, or a list of timelines you need to encode, and Edius will process the list unattended.
Grass Valley say there will be a free updated plug-in to make the popular transcoding software, ProCoder, work from the Timeline in EDIUS 6 sometime, but we do not know when.
Print to AVCHD device
The file export options have remained pretty much the same although with a few additions - you can now export to an H264 standard definition file as well as HD for example.
Grass Valley have also added an AVCHD writer. Take any footage and write it back to an AVCHD device - either the camera hard drive to a card - which you can then play in any AVCHD player.
This is not just a camera - Panasonic Blu-ray players can take SD cards written in this way and play footage, and some of their HD TVs also come with an SD reader built-in and will play footage off the cards. Now we have a different way of distributing HD footage apart from Blu-ray, which many people can use.