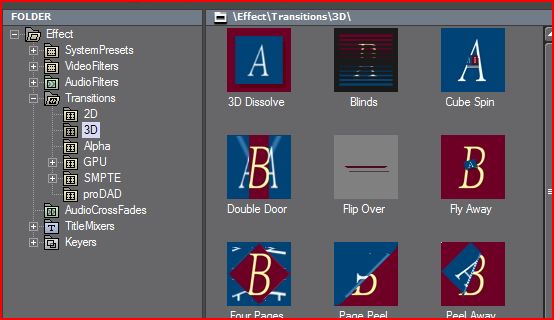 EDIUS has a wide range of transitions - starting with the obvious cross dissolve. It has 2D and 3D transitions built in and each can be customised.
Transitions can sit either between two clips on one track, or one two clips placed in an "A" and "B" style arrangement on two different tracks. This is probably the closest any program gets to the old "A" & "B" tracks for transitions that was prevalent in programs in the 1990s.
EDIUS also includes a large range of 3D transitions which use the graphic card for rendering, with explosions, spheres wipes, cubes and other wacky 3D effects.
EDIUS normally ships with a program made by German company, ProDAD, called VITASCENE. This is a range of different filters which include movie looks, glowing and sparking effects and masks and these can all be used as transitions as well as filters.
If you want even more variations you can always by ProDAD Adorage.