Windows 8 or Windows 7?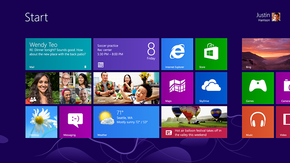 Microsoft's new operating system was released in October 2012 and the big question is should you use Windows 8 or Windows 7 on an editing system. We can actually supply either and there is no difference in cost, so what advantage will you get in using Windows 8?
Windows 8 Advantage
The main advantage would be that using the latest operating system should make your system more future proof. It may be that Microsoft and other software suppliers will support Windows 7 all the time they support Windows 8 - but logically they will support the newest operating system for longer. However Windows 7 has been very successful and we expect them to support it for many years to come anyway. There may be other advantages for using Windows 8 if you also use other Windows 8 devices like a Windows smart phone or a Windows 8 tablet - although nothing that will give you any advantage for video editing.
Windows 8 disadvantages
Windows 7 is tried and tested and all the software and hardware we use has been used on Windows 7 for a year or so - so we know the pitfalls and the problems. Windows 8 has been out for a year so many programs are now properly certified for it and work well. However we still have a few more issues than we do with Windows 7 so still use Windows 7 on most machines.
All the editing programs are validated for Windows 8 now, although some plug-ins still have problems, and some manufacturers, most notably Matrox, have only produce what the class as "beta" drivers for their devices on Windows 8. This does not mean a Matrox device won't work on Windows 8, just that if you have a problem Matrox will not guarantee to fix it.
What are the main differences between Windows 7 and Windows 8?
The obvious difference is that Microsoft has removed the "start" menu and replaced it with a new front end (as shown above). Like a lot of seasoned Windows 7 users our first reaction was horror and annoyance that something so usable had been replaced by something which is clearly designed for use on a smart phone with a touch screen rather than a desktop computer, however, when you get used to the new system it is fine and has some advantages and some disadvantages (all quite small). With Windows 8.1, destined to be released in October 2013 and free to all Windows 8 users, the start button is back, although the Windows 7 start menu has not returned - instead pressing the start button brings up the Windows 8 full screen menu. There are several other nice small changes - when you copy files the feedback is better, the task manager has a lot more useful information and if we compare using Windows 8 and Windows 7 on the same computer , Windows 8 feels a little bit snappier.
Actually underneath the new front end it is remarkably similar to Windows 7.
What software can we use under Windows 8?
Adobe CS6 & CC
Adobe have certified all their CS6 & CC range for use under Windows 8 and it works well. However, some of the additional hardware and plug-ins have not been certified for Windows 8 - most notably Matrox, who are our preferred supplier for video I/o devices.
Grass Valley EDIUS
EDIUS 6.5 & 7 are validated and tested with Windows 8. Earlier versions ( like EDIUS 6) are not validated and there are no plans to do so and will refuse to install on Windows 8. If you want to use EDIUS on Windows 8 you will need to upgrade to EDIUS 6.5. All the Grass Valley hardware that works with EDIUS 6.5 is validated as well, however, some of the extra plug-ins you can buy for EDIUS are not validated. Vistitle, our favourite animated titling program for EDIUS is validated for Windows 8 as are the ProDad plug-ins, but NewBlueFX have some problems.
Avid Media Composer
MC7 is validated for Windows 8 and work just as well with Windows 8 as Windows 7. However, Matrox drivers for Windows 8 are still beta. Blackmagic and AJA both have proper Windows 8 drivers released. MC6.5 is only validated for Windows 7.
So which should we choose, Windows 7 or Windows 8?
Windows 8 has not been a roaring success, and so there is no pressing need to use it, however, we are getting fewer reasons not to switch. This may not sound like a glowing endorsement - mainly because it isn't. With previous operating systems we found many good reasons to switch to the new o/s, with Windows 8 the best we can say is we can less reasons why you would not use it, but not major reasons why you would, other than it is the latest o/s and so more future proof. As it should be more future proof it seems logical to use it.
At DVC we are all using Windows 8 on our own machines all the time.
All the systems specified on our website only list Windows 7 but we can supply Window 8 if preferred at no extra cost.