Whatever you start with, whatever you want to end up with, the Canopus ProCoder is probably the tool for you!
DV, MPEG1, MPEG2, Windows Media, Real Video, Apple QuickTime, whether PAL or NTSC - ProCoder can "stitch" multiple files of different formats, sizes and frame rates into one seamless output file. ProCoder can take a bewildering variety of video formats and produce just the kind of output you need, ideal for preparing video for DVDs, web streaming, archiving, or multimedia presentations.
High quality 2 pass variable bit rate mpeg encoding
Smooth frame rate conversion built-in - no other software in this price range can convert standards so effectively. This is based on Canopus excellent NTSC- PAL conversion software and is extremely high quality. It is perfect for NTSC- PAL conversions but can be used for any frame rate conversion job.
Multiple targets - produce 2 or more different types of video stream - Quicktime, AVI and DVD MPEG in one process.
Fast encoding 1 minute of DV footage takes about 3 minutes to encode into DVD MPEG2 at High quality 2 pass variable bit rate on a 1.7Ghz Pentium 4.
Optimised for Dual processor machines - a dual processor computer really is twice as fast at encoding as a single!
Create desktop "droplets" of various encoding options and simple drop your files on to them to start the encoding process.
Software has a USB dongle and even comes with a USB hub in case your PC does not have enough ports!
Includes Adobe Premiere plug-in - encode direct off the Premiere timeline. This is slower - encoding times are about 3 times longer than encoding in ProCoder directly - but it does mean that you can encode Premiere projects without having to render an AVI of the movie first.
Includes a comprehensive manual that explains not just how to encode but also how compression works and advises on what sort of settings to choose.
New Features in ProCoder 3:
More Mobile Video Format Support — With the addition of H.264 encoding and decoding, ProCoder 3 is ready to convert and produce for popular mobile video devices such as the Apple iPod® and Sony PSP™.
Added Assistance for EDIUS Production Workflows — The Canopus HQ codec is now included with ProCoder 3, allowing standalone encoding and decoding of Canopus HQ files without requiring Grass Valley EDIUS software installed on the machine with ProCoder.
Support for the AVCHD Camcorder Format — AVCHD decoding capability allows the conversion of video footage from the new generation of compact camcorders for editing, streaming and DVD production.
Encoding Speed Enhancements for Multi-core Systems — Grid Encoding support for MPEG-2 (Transport Stream) provides even greater encoding speed on modern multi-core and multi-CPU computer systems. This feature is automatically engaged when you choose the 'Preview DVD Target' or 'HDV Target' formats for encoding.
Dolby® Digital Audio Support — Common in DVD production as well as retransmission, ProCoder 3 supports Dolby Digital audio encoding for enhanced audio quality in less space. ProCoder 3 also allows you to add, swap, and remove individual channels of audio within the target format with the inbuilt channel mixer.
How Does ProCoder Work?
Adding Files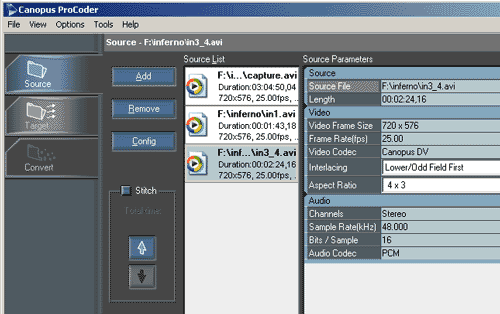 The first step is to add your files for conversion. As it loads ProCoder analyses the file and reports the size, aspect ratio etc...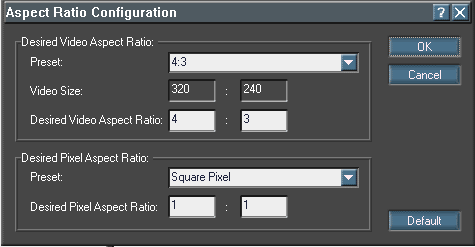 ProCoder automatically detects the aspect ratio of the file - then if you decide to use a different aspect ratio for the final file it will ensure that picture maintains the correct ratio. For example input a 16:9 file and out put it as 4:3 and it will automatically add black boarders at the top and bottom making a letter box file. However, if you don't want it to do this you can change the aspect ratio of the input file to whatever you want - so change the 16:9 in the input settings to 4:3 and the 4:3 final move will not be letterboxed.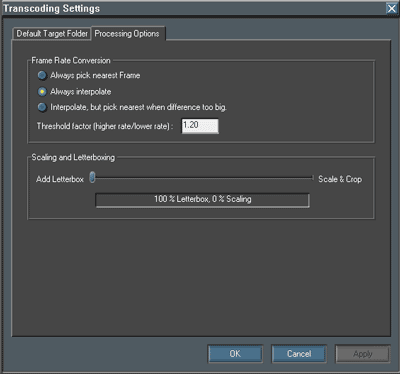 You can adjust on the general preferences whether the program will add a complete letterbox effect or zoom in slightly - effective doing a "pan & scan" without the scan!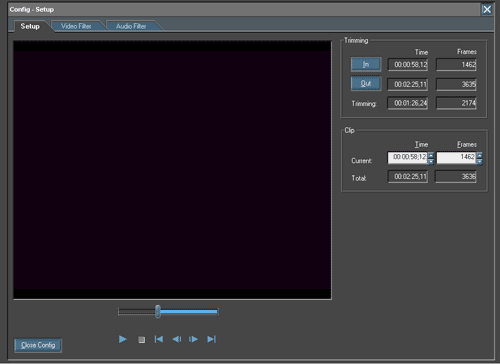 Trim the file by changing the in or out point or use multiple parts of the same file by adding the file as several different targets and choosing sections of each.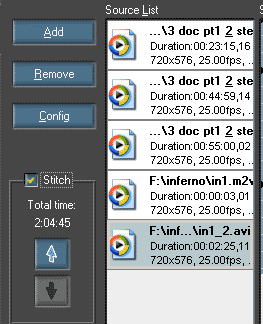 By selecting stitch ProCoder will stitch together all the input files into one final file - even if one source is MPEG, another AVI, another NTSC!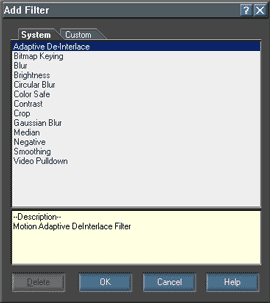 Add video filters to improve the picture quality.

Addong Targets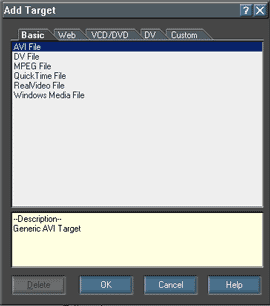 After adding the source files the second tab allows you to add targets. You can choose from any of the preset styles, or you can define your own, which you can save. You can even create a 'droplet' - an icon which sits of your desktop or a pre-designed style - and to encode a file you just drag and drop it onto the droplet.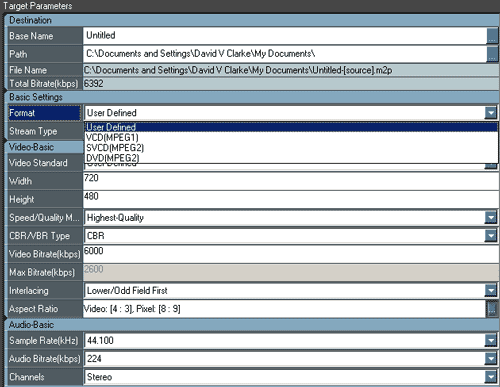 Apart from the quality and speed another good aspect to ProCoder is the large range of options. This is the basic control panel for the MPEG encoder giving you access to the most commonly used parameters allowing you to change the type of stream you are creating....

... whether you want constant or variable bit rate - there is even a two pass variable bit rate for the ultimate quality - one pass to analyse the stream and a second to encode it, making sure that the highest data rates are used when needed,
And then there are 4 quality settings - the higher the quality setting the longer the encoding - with mastering quality taking a considerable amount of time. We found 2 pass VBR with Mastering quality the best option. ProCoder can use up to 8 processors in one machine.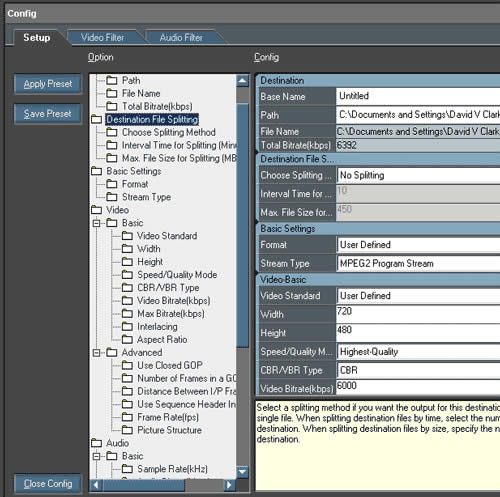 As if you did not have enough ways to configure the stream a click on the advance tab gives more options. You may never need to look at these settings but they are available if you need them.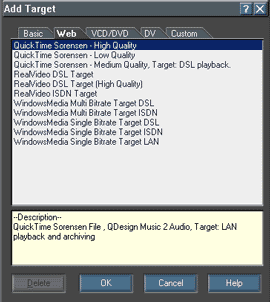 You can add other targets as well. There is a list of available presets for web export as well as other formats. If you choose AVI or QuickTime you can encode using any codec on the system.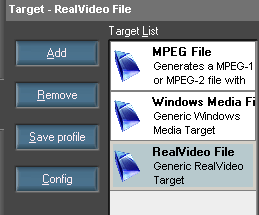 You can add multiple targets which ProCoder will encode at the same time - for example these 3 different types will all be encoded together. Naturally encoding 3 files types at once will take longer than just encoding one but the speed is actually quite amazing!
Encoding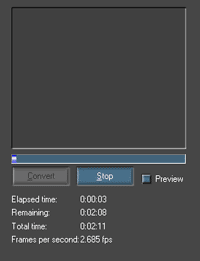 Click convert and start encoding. As you can see elapsed time and total time are displayed. Give ProCoder a couple of minutes to analyse the work needed and you will find these estimates accurate.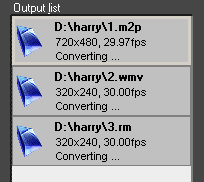 Three different file types being created at once...