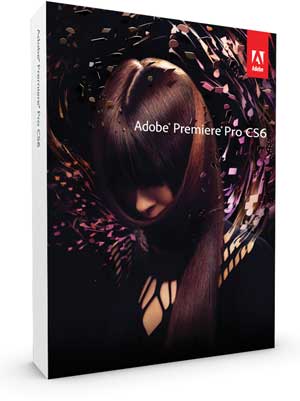 Adobe Premiere is one of the longest established editing applications. With Premiere Pro CS5, it became a 64 bit editing program, which means it can access as much memory as you want to throw at it, giving you more stability, and can harness the power of today's multiple core processors. With its "Mercury Playback Engine" and the right kind of graphic card it can also do more in realtime than most other programs, and in better quality.
Click here to read more about the MERCURY PLAYBACK ENGINE.
Premiere Pro CS6 - introduced in May 2012 - is a significant update which expands on the success, speed and stability of CS5 & CS5.5, and concentrates on enhancing the core editing functions with improved trimming, a sleeker interface, better bins and organisation and simple addition like "just keep playing" where the timeline will carry on playing while you adjust effects and move around the interface.
Premiere Pro works on both Intel based Macs and PCs, and the Mercury Playback Engine will work on both platforms with the right graphic card.
Click here for the information on the new features included in Premiere Pro CS6.
Premiere Pro CC
A new version of Premiere is available from 17th June 2013. Premiere Pro CC has a lot of extra features and makes Premiere sleeker and more usable. In a big change from previous versions the new version will ONLY be available via the Adobe Creative Cloud. This is a system where, rather than buying the software in a one off payment you rent it for a specific card per month. If you stop paying you can no longer use the software. There are CC versions of nearly all the Adobe software.
Click here to see what's new in the Adobe CC programs
Click here to read more about the ADOBE CREATIVE CLOUD & CREATIVE CLOUD FOR TEAMS
For people who want a perpetual licence CS6 will still be available. CS6 will still be supported in the future and there will be bug fix updates available, but there will not be any new features added. A perpetual licence is a licence to use the software which does not expire - you can use it forever, or at least as long as you have a computer in which it will work.
No boxed versions available
There is no option to buy a boxed version. You can buy a perpetual licence - where you will be given a serial number and the option to download the software - or subscribe to the Creative Cloud, where you will have an Adobe ID which then lets you download and install the software.
Upgrade Premiere Pro or the Production Premium
Currently you can buy perpetual licence upgrades to the Premiere Pro or the Production Premium from CS5, CS5.5 as well as full versions. We do not know if the upgrade perpetual licence upgrades will continue, although they are currently available. Adobe have said they will definitely continue to sell the perpetual licence version of the full CS6.
If you have any version of Premiere or the Production Premium from CS3 onwards you can get a discount on the first year's membership of the Creative Cloud and Creative Cloud for Teams.